Red Axes are heading out on an exclusive All Nighter tour that will see the pair play sets made up entirely of their own music. It takes them from London on March 4th across Europe and finally to their homeland of Israel on March 31st.
Since 2010 Red Axes, AKA Dori Sadovnik and Niv Arzi, have written over 2000 tracks, and only a small number have been released. So their 100% tour is the only opportunity to hear the full spectrum of the duo's artistry and experience the evolution of their music as well as their versatility as producers.
Red Axes will play music from all eras, inspired by the people they've met, the musicians they've jammed with and the places they've traveled. Whether it's one of their first ever productions, a secret remix or an unreleased edit, many of the tracks have never before been played, and will likely never be released. This tour gives them the opportunity to warm-up, headline and cool-down all in one night.
"It's a special experience for us," says Dori. "We get to play music we haven't played in years to fans around the world who have supported us from the beginning."
"These nights create a really strong bond with our audience," says Niv. "They're with us all night long, and we get to play old stuff as well as new stuff, and cover our entire history."
Red Axes have brought all new musical perspectives and influences to their sets and productions since day one. The highly acclaimed pair has released on the likes of Phantasy Sound – including new The Phantasy Collection Part 1 – Shall Not Fade and !K7 Records as well as their own Garzen Records. They carve out mesmerizing and complex drum patterns laden with their own unique mix of synths and guitars. It is a disruptive sound that brings high-energy sounds to the club and has seen the pair headline all over the world.
The tour starts at London's Color Factory then heads to Lithuania, Portugal, France, Spain and Israel.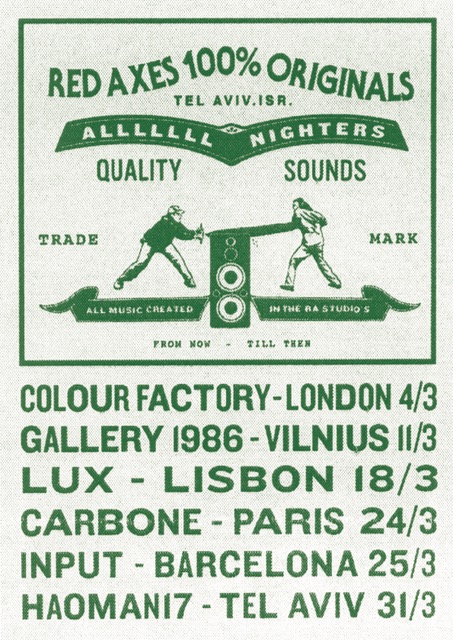 4/3 Color Factory, London, England
11/3 Gallery 1986, Vilnius, Lithuania
18/3 LUX, Lisbon, Portugal
24/3 Carbone, Paris, France
25/3 Input, Barcelona, Spain
31/3 Haoman 17, Tel Aviv, Israel