Tama Sumo is one of the first female DJs, who have ever rocked the scene of Berghain/Panorama Bar. She is a great friend of Dekmantel, who associate her with honesty and full professional devotion to DJ'ing.
In 1990-s, Tama started playing at a bar called Drama in Kreuzberg and was very much sticking to house music, trying to escape the dominant influence of techno, that was all over the city. Drama has been one of the few locations featuring house music, it's own DJs on the weekends and was one of the most important hangouts for the scene, and Tama was playing a lot of soulful vocal house. In 1997 she became the resident of Globus/Tresor and played all the gay Saturdays at Cafe Moskau.
Tama became the resident of Berghain and Panorama Bar in 2004 and since then she's regularly making the sweaty crowd go wild-blind-happy and jumpy.
She's traveled through all the house music styles during the years and has created her own style, blending house, techno, disco and afrobeat, and makes her musical stories live and fluid.
The main thing about Tama Sumo is that despite her serious looks, she is the person who always stays on the "happy" side of the moon. She says that she is fascinated with music as an instrument of positive communication between people: "Music and bass, in particular, can make people happy.'' Oh, how much do we agree!
Her first set at Boiler Room became an issue of discussion because there were people kissing same-sex partners on the camera as an act of protest. That was not a sudden coincidence, as Tama Sumo is very straight-forward with bringing political issues to the dance floor and the main subject of her concern is intolerance. The idea of the kiss-in session came from her friend Lakuti (Lerato Khathi aka Lakuti (Uzuri Recordings, Süd Electronic)) after they saw homophobic and sexist comments to Tama's gig announcement in the Boiler Room Chat.
The response the event got was great: "Music can bring people together – it's a universal language. So let's work on that."-Says Tama.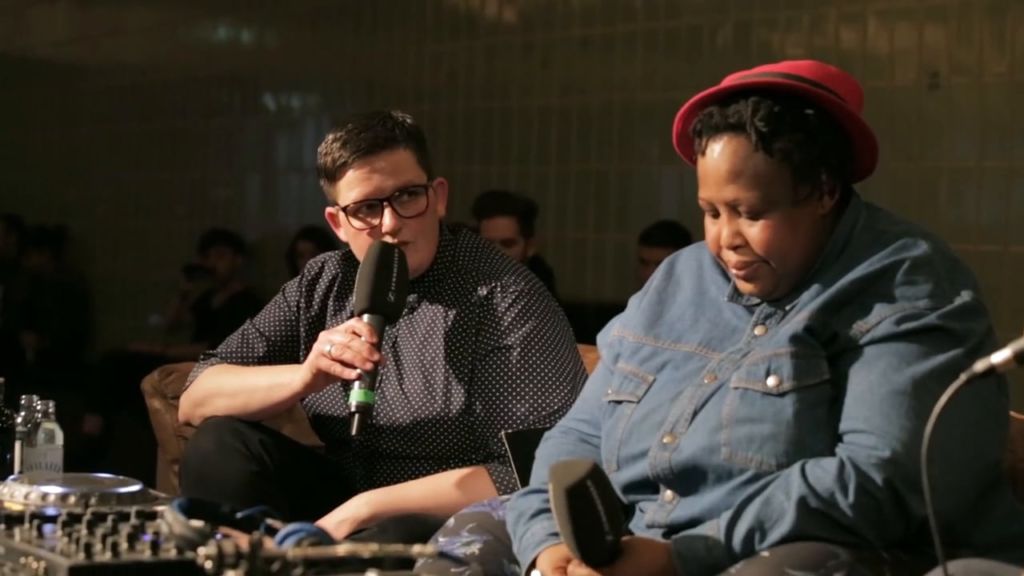 Tama Sumo And Lakuti
And she works on that all the time – no matter if she's at the decks or strolling in the street. She's nice. That's rare.
Together with Prosumer, Tama runs a Pub Quiz (Pub quizzes (also known as live trivia, or table quizzes) are often weekly events and will have an advertised start time, most often in the evening.
While specific formats vary, most pub quizzes depend on answers being written in response to questions which may themselves be written or announced by a quizmaster.
Generally, someone (either one of the bar staff or the person running the quiz) will come around with pens and quiz papers, which may contain questions or may just be blank sheets for writing the answers on. A mixture of both is common, in which case often only the blank sheet is to be handed in. Traditionally a member of the team hands the answers in for adjudication to the quiz master or to the next team along for marking when the answers are called).
Two DJs run a night without playing music. Ok. We need to check that out next time we're in Berlin.
But when it comes to a night or day, where Tama plays music, she is always very nervous. After all those years, that's even touching. She brings so much soul in what she does that you fall for that person.