Q: So who is Tripswitch? Tell us a bit about your musical history?

A: After the obligatory piano lessons when I was really small, I gave it up age 11 and picked up my first guitar (my dad used to make them as a hobby). I totally threw myself into that and by my mid-teens I was pretty damn handy. I was primarily an 80s indie kid, but my musical interests were all over the place – I played in quite a few bands across the gamut of heavy rock, indie, punk, blues and jazz bands through my late teens, but I was also dabbling with a couple of friends in recording these weird experimental ambient pieces on a Fostex 4-track tape recorder, recording all sorts of sound sources and layering up, then comping the 4-track and layering more. Then at the end of the eighties I discovered this incredible party scene through these underground events put on by a legendary collective from Nottingham called DiY, whose DJs played this amazing deep progressive house. I'd never heard anything like it before… the midlands in the UK really seemed to be a primary focus for that sound at the time with DiY and Renaissance. Over the next few years I started DJing, and I had a friend who had a bit more money than the rest of us wasters and had bought a load of Roland gear, so we started messing around with that, writing Orbital-inspired, step sequencer-based techno and dabbling in Protracker on the Amiga, but just for fun.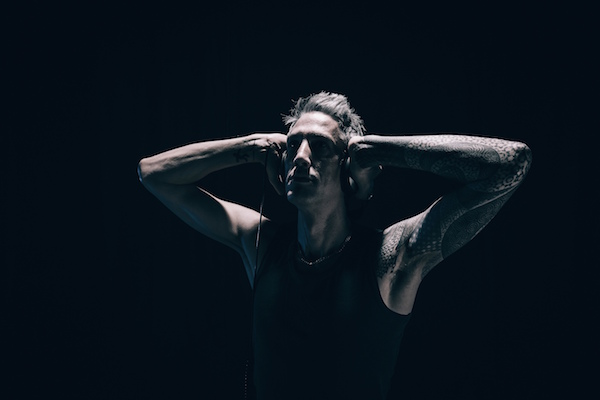 In the mid 90s I moved to London, discovered acid techno squat parties and then the psytrance scene there through friends, and threw myself wholeheartedly into that. I'd actually randomly bought the first Hallucinogen single "Alpha Centauri / LSD" on Dragonfly Records when it came out in 1994, but had no idea how to categorise it, or that it belongs to this new goa scene. Again I was lucky, that period of mid-late 90s was a real golden age for trance music and I was in the right place at the right time to watch it grow.
I'd bought a Roland Juno 106 back when I was living up north, and in London I added a JV1080 and Prophecy to my 'arsenal' and started writing in Cubase. In fact the first version I had of the software was a demo version and I couldn't save – so the first few tracks I did were written in these epic 24-48 hour sessions, at the end of which I'd record the track to tape, switch off the computer and the project was lost forever. Probably just as well as they were pretty awful! I worked with Cubase for a year or two, then moved onto Logic, which I'm still using now.
I opened a recording studio and rehearsal room with a few friends in the late 90s in Kennington, South London, under a railway arch. We had a lot of bands passing through and we'd record demos for them, and in downtime we'd use the studio for our own projects. We had 2.5k rig in the rehearsal room and threw a few small free parties in what we called "Club Tiny", and had some of the Transient Records DJs down to play. I was writing some kind of psytrance at the time, but honestly it wasn't great! Just for fun I wrote a couple of chillout tracks (mainly so I could play with guitars again) and they went on the end of a CD of my tracks that I gave to (Transient DJ and founder member of Cosmosis) Pied Piper Paul, who I was living with at the time. He passed the CD to Humphrey Bacchus who was label manager at Dragonfly, and he and Youth both got excited about the chill stuff.
The rest is history – both of those tracks ended up on Dragonfly. The first ("Shamanic Tea") went on the Mana Medicine comp in 2001, I then had couple of tracks on the 2003 comp Butterfly Dawn, and me and Ott swapped remixes for the 2004 release "Wider Horizons". The second track from that original demo CD was "Deer Park", which closed my debut album "Circuit Breaker" in 2005.
By the time Circuit Breaker came out I already had something of a reputation for the chillout thanks to those seminal chillout compilations, but it was that album that really cemented things. It did pretty well, both in terms of sales and in building my profile and reputation for writing was what to become branded as psy-chill / psybient. I was getting reviews in mainstream press like DJMag and the New York Times, and tracks were getting licensed all over the place, both inside and outside the trance scene. Nick Warren put two tracks on his GU30 Paris compilation for Global Underground, which did a lot for my profile.
We did an album of remixes on L.S.D. in 2007, but apart from that I was in a bit of a no man's land musically and it took until 2010 for me to finally nail the 2nd album Geometry, which launched my own label Section Records. Since that album I've been doing loads of remixes and had a few tracks on compilations for various labels, but again it took me a few years to really regroup and decide what the next phase was going to be. So here we are with Vagabond.
Q: Your music seems to elude definitions. Is that intentional? Are you comfortable in that zone?

A: I guess it reflects my eclectic musical history. I'm very comfortable with it… as I said I come from an era where genres weren't so rigid and I'm quite allergic to being pigeon-holed. I've never considered my music to be particularly psychedelic – I've never tried to follow a psychedelic formula – but I guess my head works that way so that's what comes out of me when I write. Over the years I've drawn inspiration from so many types of music and have incorporated elements from everywhere into my tunes … I'd get bored writing the same thing year in year out.
Q: So a new Tripswitch album – Vagabond – 3rd in number – can you tell us about it? Why Vagabond?

Vagabond is an evolution of my sound, but also a return for me to the roots of what got me interested in dance music in the first place. It's maybe a bit self-indulgent insofar as it's been a bit of a nostalgia trip, but also a chance to explore different production techniques and show people that I'm not just about chillout. I chose the name Vagabond to reflect this idea that I was moving on, uprooting myself and wandering off on a different path. I think the album is a comfortable hybrid of what people would term progressive or deep house, combined with the kinds of melodies and atmosphere that are most associated with the Tripswitch sound. So I feel happy that I've created something that's still identifiably me, but written for the dancefloor.
Q: The album was released via PledgeMusic – how was this experience for you?

A: It's the first time I've tried the whole crowdfunding thing. I love the fact that it's a far more personal approach to releasing something than keeping everything under wraps until the release is upon you – it gives your fans an insight into the production process and allows you to reward the faithful for putting their trust in your music early on by giving them extras through the campaign – free tracks, live set recordings and the like.
Q: The album is quite different from the previous two, turning into the realms of deep progressive house – what motivated this change?
A: Well as I've explained, my dance music roots were firmly in deep, melodic, progressive house, so for me this album is coming full circle. I've been writing and releasing chillout for 15 years, but it's such a small part of what I listen to. I'd become typecast as a producer, people just expect chillout from me in some form, so I really felt like I needed to try something different, break out of those walls. I was also starting to get a bit disillusioned with gigging – when all you're doing is chillout stages at festivals, being totally honest I was finding myself getting bored, and it can be hard to be inspired to give a good performance when there's just a gentle swaying on the dance floor or everyone's sat on the floor. So a few years ago I started writing a few more uptempo, 122 – 128 tracks to slot into my sets and get the crowd moving a bit. I found they responded really well … especially at festivals like Ozora, Boom and Rainbow Serpent where you have alternative stages with decent systems, large crowds and room to dance. Those festivals really became the catalyst for the transition and encouraged me that it was worth exploring this territory.
Q: You said in your pledge campaign that the seeds of Vagabond were planted back in the days when you first were drawn to electronic music by the deep progressive house of that time – can you tell us about those times? How does it feel going back to your roots?
A: I'm loving it … I've got all these nostalgic feelings around that era. It's what made me who I am in so many ways. There was a lot kicking off in dance music at the time, the acid house revolution had taken hold and the rave scene was starting to happen, but those DiY parties had something unique, classy (in a grungy sort of way) and melodic which really resonated with me. DJs like DK and Digs & Whoosh are still my heroes – I've got loads of mixtapes which I still get out and listen to. (There's a great article on DiY at http://www.vice.com/en_uk/read/diy-25th-anniversary-scott-oliver-125). The M25 parties around London were also happening in parallel, and eventually the two kind of merged with the traveller scene that was happening in other parts of the UK. Castlemorton free festival was the flash point where everything came together, it started quite small but some reactionary news reporting backfired and before they knew it there were 30,000 party heads there. Then with Renaissance in Mansfield, where Sasha and Digweed both launched their careers, the sound got a foothold in the clubs. They were golden times for dance music and I feel really privileged to have witnessed it. At the same time I was discovering the joys of the Hamburg techno / trance sound which revolved around the Dorian Gray nightclub in Hamburg airport – Eye Q & Harthouse Records, artists like Jam & Spoon, DJ Dag, Pascal FEOS, A.C. Boutsen. There was a real open-minded attitude to club music back then, you have to remember that dance music was really just exploding for the first time, everything was pretty new and people were experimenting – and it was before the journalists decided that every strand had to have a name and fit into a box. I miss those days but I've always held onto that sentiment that good music is just good music.
I'm really enjoying DJing again and that's a big part of where I'm hoping this new album takes me – I've really missed it. I'm doing loads of guest mixes at the moment starting a monthly show on Frisky Radio from June as well. So I'm hoping this gets me back into that club scene – it's where I started out after all.

Q: Were there more recent inspirations or events which influenced and nurtured Vagabond as well?
A: Absolutely. For me, house music went really off track in the 2000s … it became about this big room sound which evolved into the musical mindfuck that is EDM today. But the last few years have seen a resurgence of a more classic, intelligent, melodic progressive house sound – progressive in the true sense, not the nonsense that started polluting the Beatport progressive house charts. There's nothing progressive about a lot of that stuff, it's generic, derivative cheap thrills music. But labels like Sudbeat, Hope, Microcastle, Proton, 238W and others are putting out great stuff at the moment, music with feeling. It's been interesting to see some true progressive house artists putting their releases under progressive electronica, and that's what we've done with Vagabond – I think it's a particularly good fit for my music given my chillout background and slightly dual nature of the tracks.
Q: You've said that your chillout career was kind of a "very happy accident". Are there any other styles of electronic music you'd like to explore, either by accident or design?
A: Absolutely! I've had a side-project called Codemonkey which I've released a few tracks under in recent years, which tends to hover around this deep, liquid D&B meets breaks and bass music. It's just been a hobby thing really that I've used when the track seemed to fit that name more than Tripswitch. But apart from that, I also really love that shoegaze electronica sound – again, it stems from my roots before dance music with being an indie kid and into the whole post-punk / 4AD / shoegaze thing. There's some amazing music out there that really touches me. And I do miss playing in bands as well, so perhaps I'll return to that at some point if the stars align.

Q: This album, like few of your last single releases found a home @ Iboga Records – how did you hook up with Iboga and are you comfortable there?
A: I played in Panama last year at the Geoparadise festival, and it was the first time I was trying out a lot of these album tracks. Emok was watching the set and came up to me half way through, saying "bro, we need to put this music out! Have you got an album's worth?". So that was it really … I'd been wondering how to release something so different to what I was most known for, and Iboga seemed like the perfect fit as they had the ears of an audience that were familiar with me and my chillout stuff, but also had that history of exploring the slower, more techy and progressive end of trance where it meets house. Along with the connections I've personally made in the house scene over the years and a bit of awareness for my house sound growing through the remixes I've been doing over the past few years, we have every chance of making the album a success.
Q: What is your ultimate electronic dance music track?
A: This is a tough one, but probably "Schudelfloss" by Dr Atomic, which came out on William Orbit's Guerrilla Records back in 1993. Dr Atomic were a couple of guys who were involved in the London Orbital (M25) party scene in the early 90s, I think they only released one single but it was a cracker. For me it's just the perfect epitome of great progressive house. Amazing melody and structure, those big ecstasy moments, a hypnotic groove. Every time I hear it I'm transported back to a time and place that feels like home. I've got several copies of the 12" and it's my most treasured vinyl (apart from the Vagabond LP of course!)
Here is Tripswitch's selection of favorites: