Alejandra Del Pilar Iglesias Rivera – a promising dancer, who moved to New York in mid 90's to  join the Martha Graham School of Contemporary Dance, became Dinky – the musical producer, who became one of the leaders of Chile's electronic-music talents. Four albums, numerous singles and a calendar, full of gigs. We caught up with the busy producer/DJ to talk about her new album, life with a family, and asked her a few random questions.
Hi, thanks for finding time for us. How have you been recently, how is your family?
All is great here thank you. We are all very busy and our boys are growing very quick, life is great!
When did you start working on the Album and how long did it take you to finish it?
I did the first song in the winter of 2015, and finished the album around the spring of 2016 so it took about 6 months to finish it .
Dinky – New Valor album. Released 30th September on Crosstown Rebels.
How does it work now that you have two sons? Is it harder to travel and keep up with the regime of a night-time dj?
It requires a lot of planning and good network support, also my husband is taking care of the kids while I am away, which is a blessing really. It's not that hard to continue my career as a DJ or Live act, but I chose not to travel so much this year while my boys are young in order to have more time and energy for them, so I don't travel every weekend anymore.
When I travel I am quite happy to have a little time for myself and put my energy into the music I play, so at the end it works very well as I am more motivated and dedicated than ever when I tour, and when I come home I am super happy to see my boys.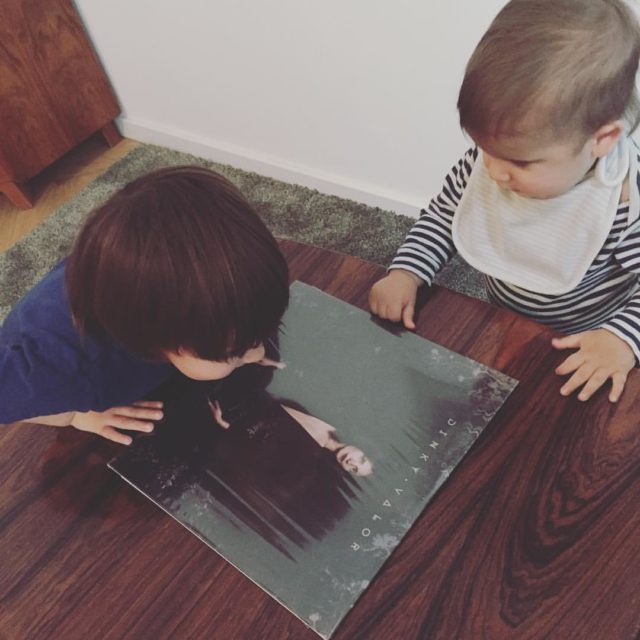 You never stay within any genre frames, you can make ambient, techno and house, depending on the mood, right? Where are you now?
I've been doing press for the album and preparing my live set. That's all I've been doing the last 2 months. But now I am ready to pick up a guitar or sit on the piano and do some proper singing and songwriting again.
Dinky Interview – New "Valor" Album
What is your main goal musical-wize for the upcoming winter season?
Me and my husband ( Matthew Styles) would like to make a more experimental project together with me on voice and Electric guitar and him on the electronics, we will see if we can find time to do this.  I also would love to make an acoustic album, very simple and dreamy.
Tell us about your relationship with Crosstown Rebels
I met Damian like 10 years ago, he introduced me to my husband who was working for him as a label manager back then.  We (me and Matthew Styles) ended up getting married and had kids and of course I will always thank Damian for this, but also me and Damian have a very good friendship relationship and we have a similar passion for music and art. We planned an album years ago but only now we made it happen.
Do you sit on an amazing DJ mix you could suggest for our readers and us? It may be yours, or maybe it is by someone else and you've been playing it on repeat?
Sure! The Gerd janson Fabric Mix is super!
Five from the sleeve:
1 Your shortest dj set
Wow … I cant remember, it was probably too short!
2 Which song/track did you hear first today?
I heard my live set that i recorded during the weekend ..
3 Next city you're playing in
Edinburgh UK
4 Did your parents ever come to your gigs?
Not yet, actually as they live very far and are totally day people but they have seen videos.
5 Who would you dress up as for Halloween?
Probably Frida Kahlo