10,000 Ecstasy pills have been used to built this giant mural, which looks like a window in a church until you come closer…
£175,000 worth of ecstasy in one exhibition by the Ministry of Sound logo designer.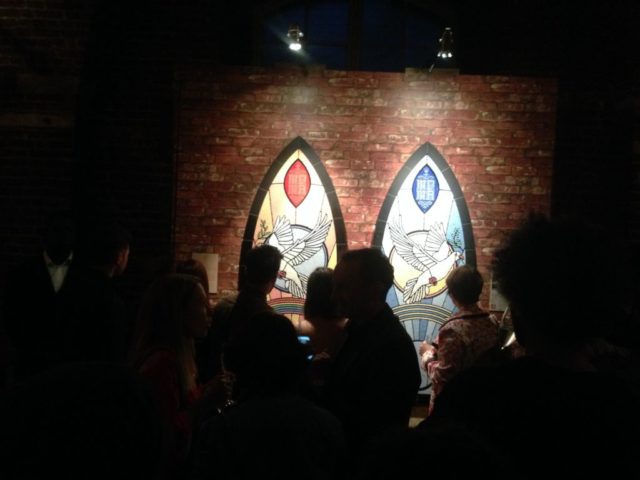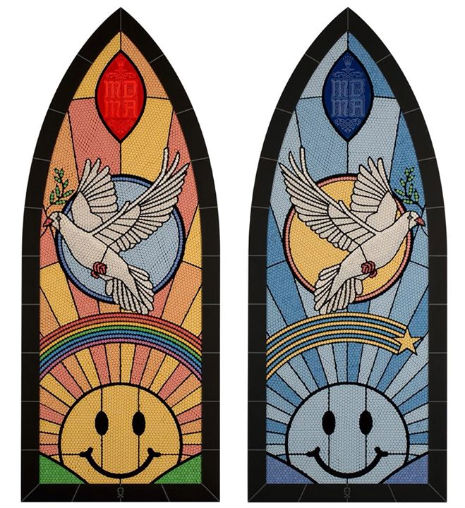 An artist who goes by the name Chemical X has created the mural from real ecstasy pills which he did not buy, but made them. He has a lab which moves around to avoid being raided. One part of the lab presses blanks to get the right color, another one, which is situated elsewhere, is used to make the final product.
Ecstasy Art Lab Policy
When asked about the use, Chemical X says that they have a strict policy in the lab and the pills are marked and weighted every time they are produced and the excess is crashed to be re-used in the next pieces.
Chemical X states that the lab and himself haven't had any problems with the police, but they have a plat to work out the situation if it happens.
The artist's website is empty and contains only a few words and an email. You can enter the online shop and buy a print by Chemical X. All of the prints sold are limited to 50 copies and are signed. A 50×50 print of an E-heart will cost you £145.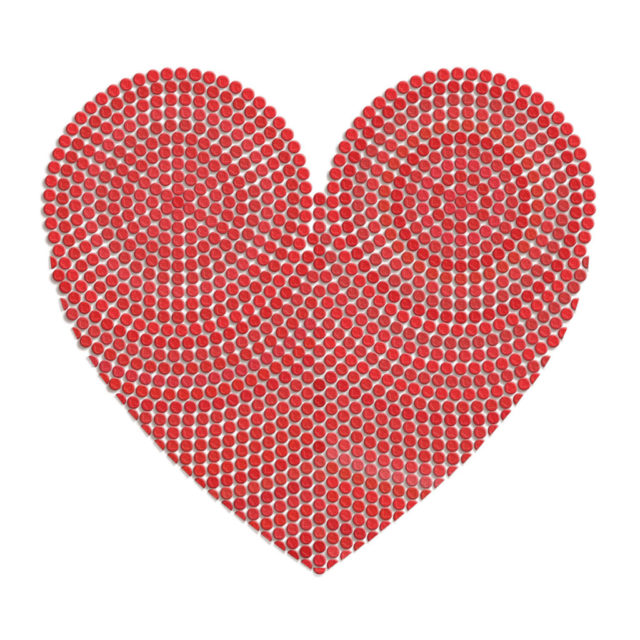 The policy of discretion and the overall shadiness is understandable on one hand, but on another hand, it makes one think that all that is a joke. But it's not. The person behind the ecstasy art is a real-life designer, who created the Ministry of Sound logo and the works themselves have been publically introduced at an exhibition in London in 2013.
Another work by Chemical X –  "Love & Death"  is a six-foot high skull-and-crossbones with an asking price of £100,000.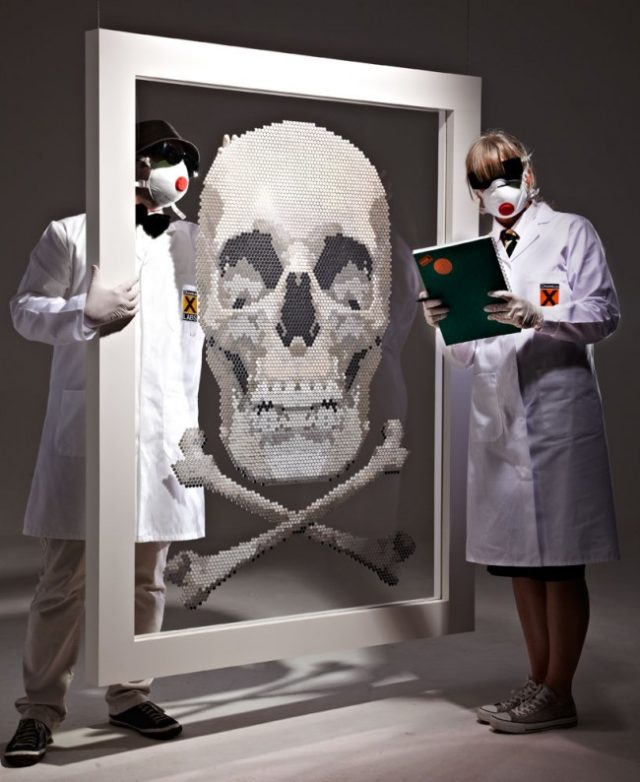 Hangable E-sculptures by Zeus
The drug industry knows only one drug that is honored by a serious approach to it's design and color. Makes sense, as Nike or Bart Simpson are easier to remember after a night of molly dance.
The designer who created a tribute to ecstasy which can also be hanged on a wall, he didn't go for the real E pills and made oversized copies of them.
A graffiti artist Zeus (Dean Zeus Colman) combined his streetwize approach with the Chelsea College of Art education and made a line of plaster sculptures of actual ecstasy pills.
Now you can buy one of these to hang them on the walls of your home or office to remind you of the fun you once had. One 23×23 cm piece will cost you £175.0o and the Batmans are already sold out, as well as the Louis Vuittons and the blue Mitsubishis.