Since Eric Morillo opened up in interview to Pete Tong at IMS Ibiza conference, his ketamine addiction has become viral.
There is a certain amount of willpower and a great wish to help to what Morillo did. The full conversation is very interesting, as Morillo tells how he went though his career from the very beginning – about seeing someone DJ when he was 11 and to the point where he became the face of the cliche "Superstar DJ" – flying private jets, drinking vintage champagne, having sushi right in the DJ booth (as Pete Tong recalls).
Morillo said that he worked so hard and played so many gigs, that he could afford a private jet with his name on it's side. He remembers playing 27 gigs in one month during that period.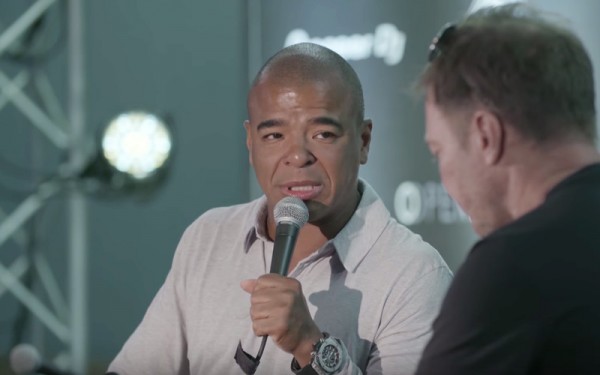 Morillo tells a very sincere story about starting to abuse drugs and what it did to him. His ego couldn't stand the pressure of realization, that he is not the "top dog" in the EDM scene and he tried producing music he didn't like, play music he didn't like, then dumping it, and in the end ego tripping led him to being constantly fucked up. The people surrounding him didn't see the destructive impact of alcohol and drugs, as Morillo always went to his gigs and parties and doing drugs at home in private.
He has been arrested tree times, banned from British Airways for two years for "leaving something in the bathroom" went to rehab twice – the first time he was sent there to avoid court, for the second time he went for himself. Why the second time happened? Because he was a following all the rules of the rehab, but as soon as he got out, he thought "I know better". The main problem according to Morillo was that he didn't quit drinking. "You have a little alcohol, then some girl comes and says "Let's do it" and you think – fuckit and take a bit, then a bit more…"
The experience Morillo went through made him realize a lot of things about himself, his ego, friends and life in general. His drug of choice was ketamine. At some poing he felt that he fell out of love with DJíng and music. It took him six months without ketamine and alcohol to realize that is wasn't that. He just didn't love the music he was trying to make and play to get him to the top of the DJ Olympus.
Morillo says that ketamin has put him into the "reality that isn't real", he was experiencing unbearable pain in intestines which basically stopped working, and couldn't pee.
Ketamine is a drug mainly used in veterinary and human medicine as an anesthetic. It has grown highly popular as a "recreational" drug for it's hallucinating properties and the feeling of being detached from the environment. The "date rape" victims' tests often show traces of ketamine. The side effects are highly dangerous, mostly in the mental sense – the feeling of invulnerability may lead to dangerous situations and overuse of the drug leads to disorientation, hallucinations, amnesia, violent behavior.
Ketamine is a few times stronger than cocaine and amphetamine and leads some users to hurting themselves, as they don't feel any pain, which is the main goal of the drug.
A research from 2009 shows that patients get mild schizophrenia several days after taking ketamine.
Generally, ketamine is a highly antisocial drug that makes users disoriented, they can't talk, dance weird and don't realize they hurt themselves and interfere with others' time-spending.
What Eric Morillo did is that he came out talking about his problems, and not only his ketamine addiction, but also the alcohol abuse. He made a step to build awareness that we all reside in a musical world, where drugs are everywhere and they ruin lives. Luckily for Morillo, he managed to get clean and save his career and bank account.
There have been reports recently, that the acclaimed young EDM musician Avicii is retiring. He was on the 6th place in the Forbes list of the highest paid DJs, but look at him before and after the career that made him famous. The photos are easy to google and the changes are dramatic and it's only to the best that the 26-year old realized that, as he puts it, there are things surrounding his highly paid career, that are ruining him. We can only guess that the loss of weight and generally health is related to the availability of drugs and a habit to approach them when a hard working DJ is on his fifth gig in a weekend.
It is important for those we look up to to step forward and speak. Then maybe some lives will be saved and we won't see news like the one which came this year from Movement Argentina.
Educate yourself.