The London Mayor Sadiq Khan Stood up For Fabric
Since the London club Fabric agreed to close it's doors for one weekend to help police investigate the deaths of two young people on the venue territory, local DJs and other nightlife regulars have been addressing Sadiq Khan.
The new London mayor has won the votes of many by promising to support the city's nightlife. He said that he doesn't want young energetic londoners leaving the city for Berlin, Amsterdam or other European cities to party, when they have their own city as a playground. Obviously, another reason for that is tourism.
This week the local youth, the DJs, and promoters started a Twitter campaign #SaveFabric and addressing the mayor straight to his account, asking to stand for Fabric, as he promised.
Sadiq Khan responded within 24 hours: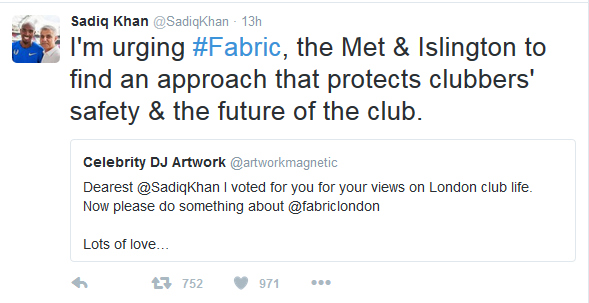 We stand with nightlife. We stand with Fabric. We stand with safety.