Purveying a truly unique style, ranging from raw techno beats to the darker side of tech house, Bulgarian Metodi Hristov has won the hearts and minds of the international electronic music community over the course of his decade-plus long career. His love to experiment and mix up different styles of music has led to standout releases on numerous big name labels and remixes for some of the most revered artists in techno, while jis original productions have gained support from numerous world known artists including Richie Hawtin, Carl Cox, Adam Beyer and Ida Engberg to Marco Carola, Monika Kruse, Joris Voorn to name but a few. With the establishment of his own imprint Set About Music in 2016, a new home for his huge library of quality tracks was found. As well as being a highly respected producer and label head he has already earned a reputation for being a formidable DJ having played at some of the most notorious clubs and festivals in the world. With a veritable slew of hard-hitting releases already clocked this year, now continues his prolific run of 2022 form as he unveils his remarkable new underground techno cut, Extreme Ways. We caught up with the man himself to find out more…
Hey Metodi, how are you doing? How has 2022 been for you so far?
Hello guys! Thanks for having me 🙂 I'm feeling very well mentally and physically! 2022 is a good year for me so far! It's like a new beginning not only for me but for the whole industry!
Could you talk about yourself, how you started producing techno music and why precisely this kind of electronic music?
Due to various circumstances, I spent a large part of my childhood with my grandparents. They were very poor people, they didn't have money for a cable tv nether computer which means no internet of course. The only entertainment for me and my brother was playing with the other kids outside and listening to music (which I'm not complaining about at all). The source of this music was mainly the radio and my walkman, which my brother and I shared and we would constantly argue and fight over it because we didn't have enough money for two. For years, one of our favorite games with my brother was playing radio hosts with a single-start cassette player left over from my mother and aunt's youth. At that time I was listening to a lot of different music (metal, pop, hip-hop, new wave), basically everything that was trendy at the time. As I grew up, I started listening to a lot of electronic music. I liked stuff with a more broken beat the most. I kept listening to Prodigy and Music Instructor, West Bam. I was about 15 years old when I heard on the radio something very strange to me, something that made a very strong impression on me. I knew the song was Corey Hart – Sunglasses et Night, but something was very different in a good way. The sound was so tight and dense, the melody was transformed and sounded so much better, it just poured over my brain.
This remix sounded alien to me. I just didn't want it to end, and the worst part was that I didn't know whose remix it was. After a lot of shaking and questioning I found the track in question and naturally broke it from listening. A lot of people will say that the original is better, but in my eyes, Tyga did one of the best remixes I've ever heard, even to this day.
I started to wonder – how can you transform an old song from the 80's and make it sound so much better than the original (which is also super cool).
I kept thinking about this question and it was the earliest spark in me of curiosity of curiosity about this genre. This set off a chain reaction that led me to where I am today.
Big ups on the release of your new single 'Extreme Ways'. Tell us about the release?
Thank you! "Extreme Ways" is a single, 1 track release is out on my label Set About where I'm regullary releasing my music. It's a track that I made more than 1 year ago and I played it so many times in-front of so many different crowds around the world. And I'm super happy to see the desired reaction every time when I'm playing it.
Is there a particular message / meaning behind this title?
We have a little white sticker on each of our Set About artworks where every artists can write a few words about its release. On my "Extreme Ways" artwork sticker I wrote – "Extreme Times – Extreme Ways". The rhythm of this track is kind of rough and stumbling (or maybe only I'm hearing it like that) and distorted which personify the extreme times. The melody is unrestful and somehow with a positive vibe. It's a strong melody which embody the indomitable spirit and the extreme ways this spirit goes through. It's like the melody is telling you – it will be very difficult, but it's possible and it's wroth it to go through, no matter how extreme it is and on the other side the synth stab reinforces all said by the melody. Explaining all this I'm not thinking about something specific…in my mind is just kind of random energy…
Has this release been in the works for a long time?
Actually it was an idea, just a loop that I made back in the time and I didn't know how to continue it! But I know very good that in moments like that you just have to put it aside for as long as it needs! 2-3 month after I left it to rest, BAMMM, I made it for 2-3 days!
Was there anything that influenced/inspired its creation?
Nothing particular actually as it's usually happening with my music. Sometimes I just have that feeling that I can make something…it's coming like a visual and a vibe in my mind, then I'm going to the studio asap and converting that vibe in to rhythm and melodies.
Festival season is in full bloom right now. Can we expect you behind the decks somewhere and what do we have to expect from one of your DJ sets?
The highlight this summer for me is definitely my participation in Carl Cox Invites stage at Sunrise Festival / Poland where I'm going to play b2b with Anna Tur! I have many many other interesting gigs around but that's definitely the most exciting.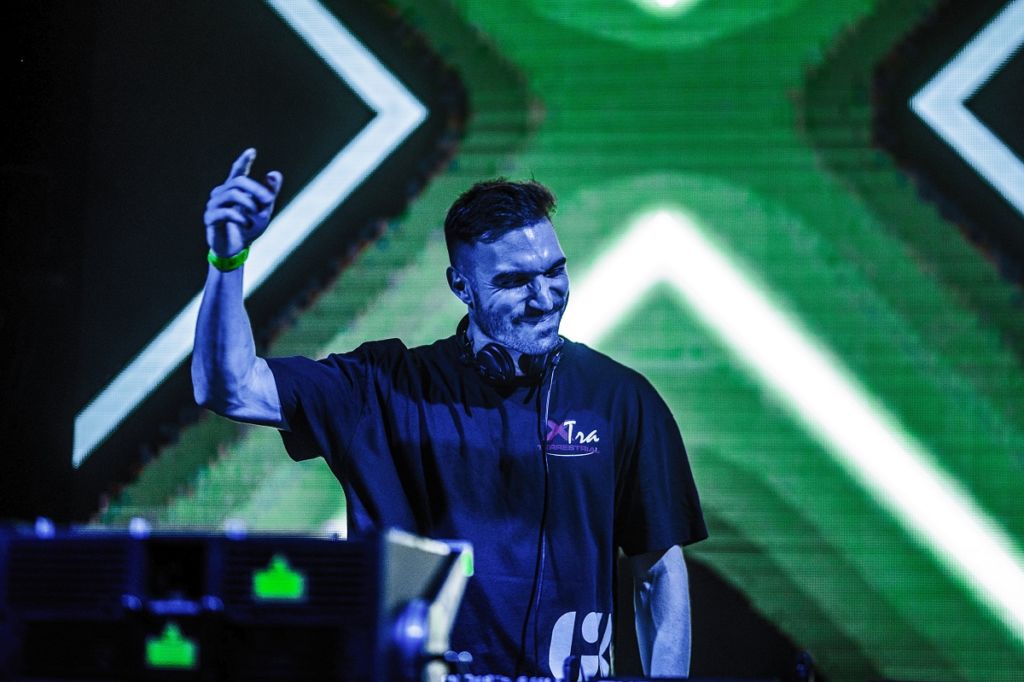 Where did you grow up and what was the music scene like there? How has it evolved over the past years?
I grew up in Sofia / Bulgaria where the population is 1,5 mil. and we have 6-7 mil. in the whole country so you can imagine how small the scene is here, but still there are a lot interesting things happening. The people here like more aggressive and pumping sound, no matter the genre of music, but I think the most preffered sub-genres in the electronic music are techno and tech-house and back in the time I would say progressive and techno!
Are there any local artists that we should be keeping our eyes on?
Definitely! I really like Peppou, Gallya and Yory. They are very different from my style, but I really admire their skills and talent so go check them out!
Talk to us about your label Set About. Do you have any exciting projects in the pipeline that you can share?
Absolutely! We are releasing very week on our Set About label and there are so many exciting releases coming out from so many young and talented artists! I'm very very proud that at least the half of our releases are coming from almost or totally unknown but super talented young artists!
And the big new now is that me and Gallya just opened our Set About South label which is more tech-house, minimal deep-tech and melodic focused. We are releasing once per month there and the first release is coming from Gallya and it's already out on every possible platform.
Lastly, what does the rest 2022 look like for you?
I'm so looking forward to release my new music on so many different labels including a lot interesting collaborations! Also I'm very thrilled about my Asian – Australian tour in September and also we are planing some very exciting label showcases in our country and abroad! I'll keep you posted for all this and more via my socials.
Grab your copy of Metodi Hristov's 'Extreme Ways' here.