Tresor Records is proud to announce the reissue of five crucial works from their catalogue starting in November 2018, welcoming back Jeff Mills' 'Waveform Transmission Vol. 3', 'Internal Empire' by Robert Hood, Juan Atkins presenting Infiniti's 'Skynet', Drexciya's infamous 'Neptune's Lair' and 'Arrange and Process Basic Channel Tracks' from Scion. Master works, then and now…
The ongoing importance of these albums is indisputable, essential both to techno and to Tresor. It is a history intertwined. The Berlin-Detroit connection lives, with these releases testament to the eternal influence the artists share among each other, with musicians, DJs and dancers worldwide. These works elevate their makers as masters, and remain a cherished moment in the Tresor story, sharing an irrefutable singular magic, sounding as present and indispensable as when first created. To understand these works fully is to stand back and celebrate their impact.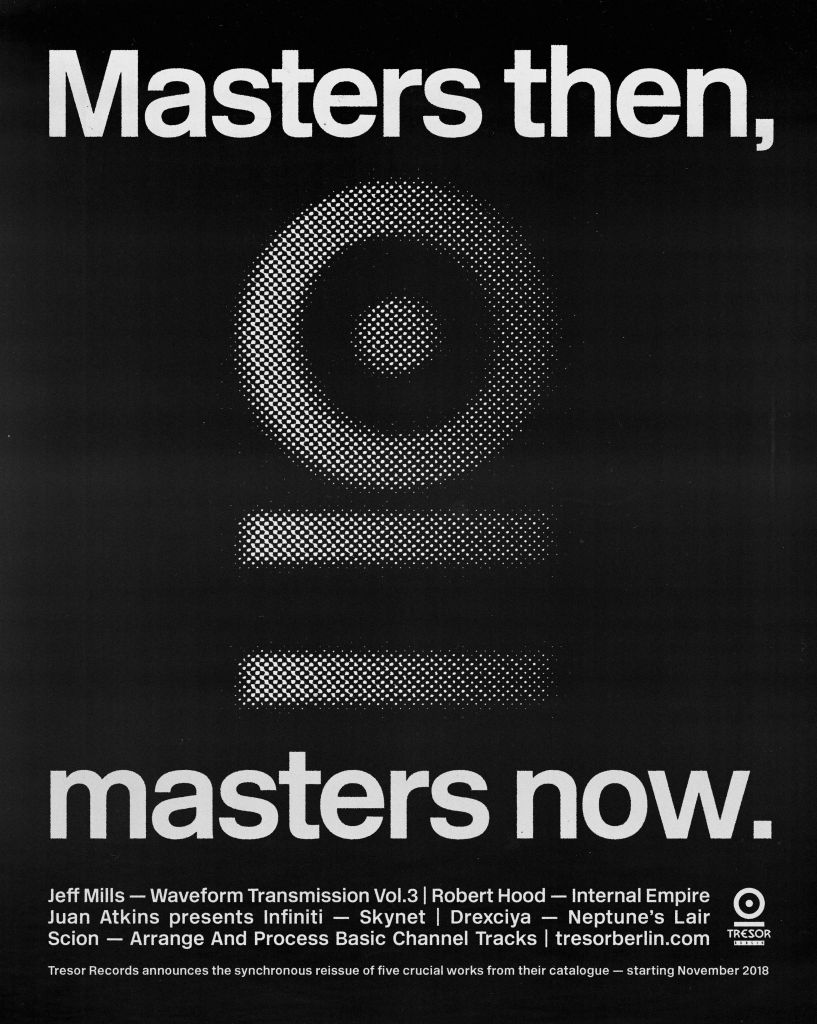 Tresor's long-lasting relationship with the Underground Resistance collective has altered dance music permanently. Originally released in 1994, 'Waveform Transmission Vol. 3' and 'Internal Empire' mark a point of transition for these artists moving on from their previous collaborations within Underground Resistance. Jeff Mills and Robert Hood advanced, revealing sharp sensibilities in aggression and sophistication for Mills, while Hood uncovered the power of true minimalism. Deep soul through a simplicity that showed how much could be done with so little. The devastating rhythms of these albums forge the unmatched spirit of this sound, influencing generations to come.
Juan Atkins' Infiniti project combines raw tactility and puristic elegance with 'Skynet', where slinking grooves mask chaotic frequencies and roughly-hewn structure. Alongside fellow Detroit legend Terrence Dixon who appears on several tracks, Atkins exposes the life and emotion in machines, outputting a biomorphic atmosphere of industrial soul.
The genre would have not reached such depth without the invaluable contribution of the late James Stinson and Gerald Donald as Drexciya. 'Neptune's Lair' is undoubtedly one of the most important albums of their masterwork.
The devotion to the pulse continues with 'Arrange And Process Basic Channel Tracks'. Minimalism and monotony but never boring, the Basic Channel sound moves every fan of futuristic music. No understanding of Berlin techno can forgo this revelatory music. This treatment from Scion draws out these beloved sounds, laying down an extended mix that strikes from the core of Tresor's unmistakeable identity.
Jeff Mills – Waveform Transmission Vol.3
TRESOR25 – November 2nd, 2018
Limited, stamped and hand-numbered 2LP Vinyl
Infiniti – Skynet
TRESOR105 – November 16th, 2018
2LP Vinyl
Scion – Arrange and Process Basic Channel Tracks
TRESOR200 – November 23rd, 2018
Limited CD edition
Drexciya – Neptune's Lair
TRESOR129 – November 30th, 2018
2LP Vinyl
Robert Hood – Internal Empire
TRESOR27 – February 1st, 2019
2LP Vinyl / CD