Peter Van Hoesen Interview. Time To Express and Neopop Festival
Peter Van Hoesen will play at Neopop festival Day 1. We caught up with one of the most independent and open-minded techno producers to ask a few questions about the future of techno, which is rightfully described by Peter as focusing on what you do instead of thinking where it's going; and about the environment he likes to be in when he plays.
You were the first artist to release at Dekmantel's UFO, tell us about your relationship with the label and your release there.
The first time I heard of Dekmantel was through Juju &Jordash' Deep Blue Meanies release, a few years ago. That is still a great record, and it introduced me to the label. Then a few years later Dekmantel invited Time To Express to host a label night during one of their events at ADE. This was a very pleasant experience. Then last year I was thinking about a home for some of my new tracks, and it seemed logical to approach Dekmantel because of these past experiences.
What about Time To Express? It seems that the name speaks for itself, but what is the ideabehind it and what is special about your own productions you choose to release there?
It is basically a platform that allows me to release my own music without having to deal with any outside involvement. There are no deadlines, things just happen when the time is right. The best way to look at it is as some kind of private playground.

Which release should we wait for next?
Right now I'm busy preparing the new live show but after that I'm planning a 12" release on Time To Express, probably near the end of 2016.
You share a lot of music on your Facebook page. What is the last musical crush you're having? What do you listen to when you're alone?
The last album which is on repeat at my house is Flesh & Machine by Daniel Lanois. Another recent crush, actually from late 2015, is an Australian band called The Necks. They're amazing. I listen to music all the time, it does not really make a difference if I'm alone or not. There's always something playing.
There seems to be a new rise of techno now. Huge techno festivals are a usual thing and now events like Coachella, which is a fashionista get-together with pop music, bring techno to their stages. Why is it going on from your point of view? Are we facing the time when techno is slowly becoming a part of the musical industry where artists like Beyonce and Taylor Swift rule?
To be honest I have no idea. And I don't really think about this too much. Things will happen if they need to happen, I guess. I will just continue doing my thing, it does not really matter to me whether techno becomes a fashionista thing or not, because if it does there will be very little that I can do about it. Obviously I find it important to keep the artistic focus as the primary motivation instead of chosing a strictly commercial path, but I guess not everyone has the same point of view. So I prefer to focus on the here and now, on what I do myself.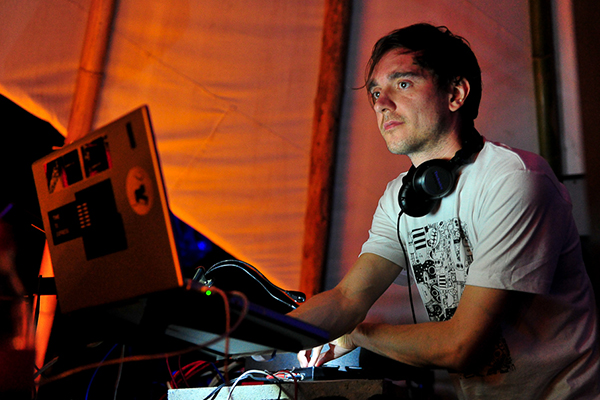 What's your recipe for a perfect techno event? A dark club with minimum light installations or maybe a forest or seaside? Have you ever played on a seaside?
Yes, not too much light is preferred, in a club situation. Outside in an open air context it becomes a totally different thing, I really enjoy the daytime situation, sunshine, a proper sound system, being able to see the people around you. A dancefloor during the daytime is a completely different thing compared to a dancefloor during the night time. And yes, I've played on a beach once, during an afternoon. Great fun. And a rave in forest is something you can sign me up for anytime 🙂 Music and nature go hand in hand as far as I'm concerned.
You are playing at Neopop festival and we are going to watch you live at Be-at tv. Does it feel different when you know that you're not only playing for a few thousands of people on the dancefloor and also there are a few thousands listening to you online? Is it a bit uncomfortable, to feel sort of peeked at?
To be honest I will probably forget quite quickly that I am being filmed. I'm very focused when I'm dj'ng, I do tend to be rather unaware of such things. So I don't really mind. Let the camera's roll…
Peter Van Hoesen Neopop set will be broadcasted live at Be-at.TV
Peter Van Hoesen Playground Podcast #19
Tracklist:
[00] Dino Sabatini – Ritual [Prologue – PRGCD 002] [04] Donato Dozzy – A.Ritmica [Spazio Disponibile – SPAZIO 002] [06] J. Tijn – Infuse (Skee Mask Remix) [Resin – RSN 009] [09] Jamie Haus – Absolute Zero [Planet Rhythm – PRRUKD 030] [12] XDB – Ganivon (Answer Code Request Remix) [Dolly – 17] [16] Ruhig – Eddying
…
[23] Alume – Kotoka [Nyame] [25] Blawan – Hanging Out The Birds [Ternesc] [28] Peter Van Hoesen – Duet Dub [Dekmantel – DKMNTL-UFO 1] [33] Francois X – Rising [Marcel Dettmann – MDR 014. 2] [39] Voices From The Lake – 258B [Spazio Disponibile – SPAZIO 001] [44] Marco Shuttle – Sing Like A Bird (Peter Van Hoesen Remix) [Time To Express – T2X
[54] Peter Van Hoesen – Quadra [Dekmantel – DKMNTL-UFO 1]