This is Xosar And You Must Listen to Her Live
Xosar is a San Francisco based electronic music producer, who looks like a beauty queen.
The music she makes takes it's roots in the everlasting detroit and chicago classics and she is obviously educated in the subject.
What makes her stand out from the raws of modern musicians is that she plays her lives using the analogue equipment and leaving out the DJ's accessory #2 in popularity after headphones. Yes, no laptop.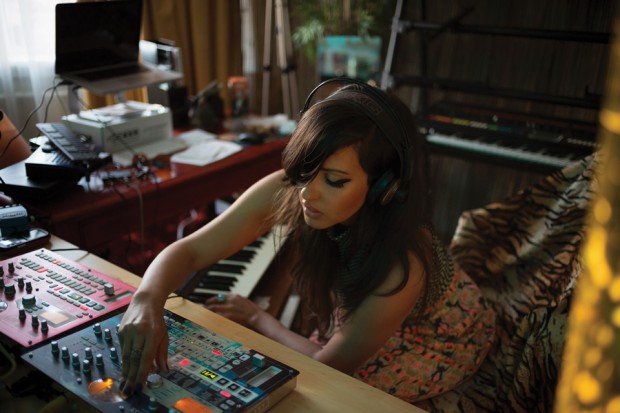 "I started producing music on my mint green Kermit the Frog Casio EP-10 in the east side of San Jose when I was 5 years old."
Xosar is the younger representative of that group of musicians where Octave One and Jeff Mills come from. Only synths, processors, pads on stage. When you see her photos, you think that she's too cool for school, but that's where the feminist ideology comes forward – being beautiful and wearing leopard and red lipstick doesn't define a person. What she does defines her. Xosar is one of the best musicians, who spent almost her whole life producing music. She learned sound engineering and dug her friends' brains to show her how to deal with the software and equipment. And that's some serious business.
She told in an interview for Rush Hour:
"Eventually people started contacting me saying they were interested in releasing it. They usually thought I was a guy and addressed me as "bro" or "man", but I was ok with that. For some reason it made me feel powerful. After flirting with the idea of becoming a faceless producer, I decided to just be myself, so here I am!"
Xosar Live
Xosar is playfully pushing buttons and turning faders, letting the sounds out of her boxes, pushing deep house into techno and back note by note, beat by beat. Behind every release Xosar puts out, there is a story. Its either an UFO – hunting operation, or an imaginary trip to a big city. When Xosar was young, she wasn't allowed to go out and everything she had were the books, her imagination and music.
Xosar doesn't wander between the borders of house and techno. She goes out for some down-beat and deep stuff, drops by to industrial and the way she plays live lets her create flawless trips for the attendees.
Let's love her together.
Xosar Live @ Dekmantel Festival
Xosar Live @ Weather Festival